We're headed into another important year for the senior care industry. While there's a lot to look forward to in 2022, there's no denying the lingering impact of COVID-19. For one thing, senior living occupancy is way down to just 81% for independent living and 75% for assisted living.
One clear reason for this plummet in occupancy has been the lasting hesitancy among families to place their elders in senior care. COVID-19 is still a risk to senior citizens . The problem is compounded by staff shortages, some of them the result of unvaccinated caregivers. Today, only 50% of senior caregivers are fully vaccinated , and 54% of vaccine-hesitant caregivers "would rather lose their job than get vaccinated."
And that's just the COVID-19 situation.
New Trends Beyond COVID-19 to Consider
At the same time, we're seeing a shift toward far more significant investments in digital for senior care. In the wake of huge hits to their brand reputation, senior care providers see their websites and owned digital channels as the most cost-efficient way to reach people searching for care online.
And people are indeed searching. The rapidly aging U.S. population has increased the demand for high-quality senior care options. What's more, senior care consumers now tend to take research into their own hands. Both the elder in need of care and their decision-making unit (DMU) know they can go online to find what they need. This so-called consumerization of healthcare has created renewed demand for easy, low-friction digital experiences.
People have more choices now, and it has made the industry far more competitive. People want their families in good places! Which makes direct-to-consumer marketing all the more critical. Before, many senior care providers relied on referrals from hospitals (especially nursing homes, hospice providers , and assisted living ). It's time to take a page out of the independent living space and focus more on DTC marketing.
Luckily, a digital strategy in line with the trends below can help.
TABLE OF CONTENTS
This article is rich with information. Use the table of contents to skip to a particular section.
New Trends Beyond COVID-19 to Consider
1. You Can't Afford to Put Off Investments in Website and User Experience (UX)
2. Full-Funnel Patient Engagement (aka Omnichannel Marketing) Is a Must
3. People Want to See (Social) Proof & Reviews
4. Personalization Makes for Better Experiences
5. Return on Investment and Conversion Rate Optimization (CRO) Go Hand in Hand
6. Search Engine Optimization (SEO) Remains Critical
7. The Data Insights Are There Thanks to New Technology Adoption
8. New Data Restrictions Will Make it More Difficult to Reach Consumers
Conclusion
1. You Can't Afford to Put Off Investments in Website and User Experience (UX)
You learn a lot about your website and digital experiences when everyone in the world is forced to go online for nearly two years.The COVID-19 pandemic laid bare some harsh realities for a lot of senior care providers . Some found their decision to kick the can down the road and wait to overhaul their website a huge mistake. Others scrambled to meet the infrastructural needs of virtual tours and meetings.
Then there was the Google Page Experience Update that in many ways canonized the importance of digital UX. As a result, our agency has seen a lot more requests to either redo websites or be part of the process alongside a web design agency . It's a clear sign that a website can fuel the patient experience, drive conversations, and build loyalty.
In 2022, senior care providers shouldn't need convincing that their website is the face of their organization—it's probably too late for that. But they do need to overhaul their sites through the lens of what seniors and their families actually need. This will help guide things like site structure, content, and even SEO—all of the ingredients of good website UX .
Keep in mind that today's senior care consumer expects digital experiences on par with the other industries they interact with online. Across the board, those experiences are optimized for mobile .
2. Full-Funnel Patient Engagement (aka Omnichannel Marketing) Is a Must
We saw so many senior care clients move to more full-service scopes this year. They want new web design , SEO , content, and digital advertising across the funnel. Why? Because it's not enough to just be at the bottom of the funnel or to focus on only capturing existing demand. Senior care organizations must develop a more holistic strategy to build awareness, namely:
Across the funnel
Across the decision-making unit (spouse, kids, client)
You might be appealing to a son or daughter whose parents need in-home care for the first time. Or a retiree who is researching senior living communities for themselves and their spouse. And each customer profile will take its own path from the first touch to the finish line. Sometimes, that journey takes a long time: in the independent living space , for example, almost 50% of residents move in two years after starting their initial search .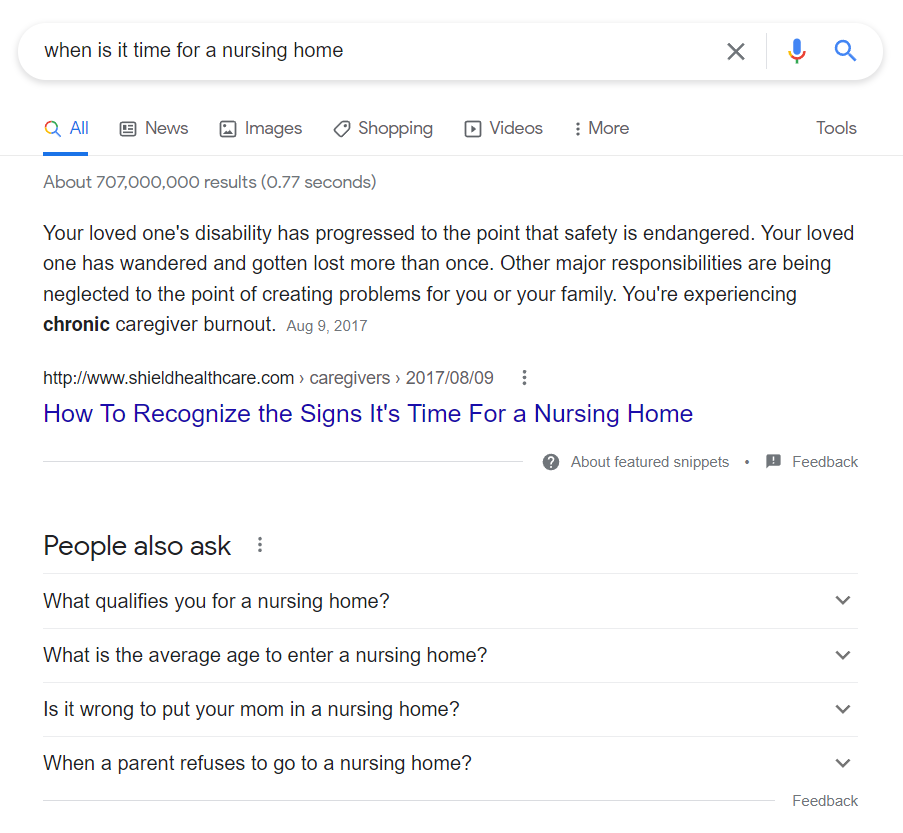 Whatever the level of consideration required for purchase, a full-funnel approach to marketing can educate family members while they seek to find their loved ones the best possible care. You can and should build out ads, content, and campaigns that answer questions and engender trust at each step of the way. Social proof, videos, and storytelling are a plus.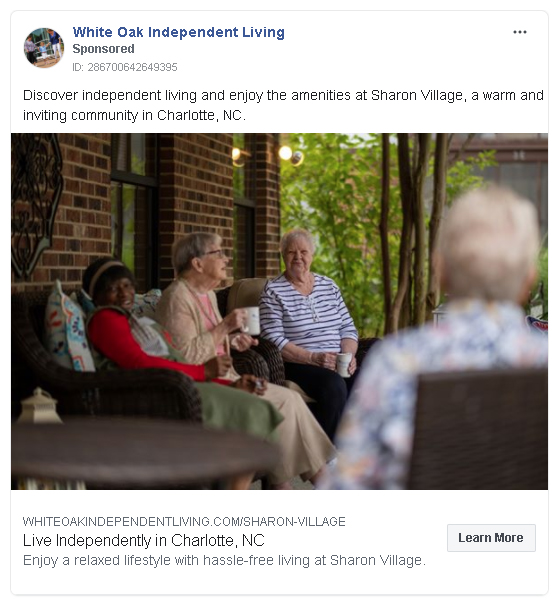 We like to think of omnichannel marketing as comprehensive, multi-faceted lead nurturing. Whether they're just beginning their search or close to making a final decision, you're there with the timely information they need. One stage in the funnel doesn't necessarily follow the next. So:
Get as close to the consumer/customer as possible
Conduct thorough buyer journey mapping and understand intent at each stage
Create lots of good content and campaigns that addresses their needs
Let machine learning determine where to put the next ad dollar most effectively
Invest in SEO, so content is discoverable when people inevitably go to search for answers
3. People Want to See (Social) Proof & Reviews
Reviews and testimonials are nowhere close to new concepts in digital marketing. Yet far too senior care organizations miss the opportunity to deploy these and other forms of social proof. The kids of our aging population are digitally savvy. They're not just asking families, friends, and doctors for recommendations.
Instead, they're looking for case studies and testimonials—any signal that they can trust your brand with the care of their loved ones. This is your opportunity to show patients why they should choose you, rather than telling them. That means threading video testimonials, interviews, and storytelling throughout your marketing channels (social media, ads, etc.).
Common forms of social proof in senior care:
Ratings and reviews on HealthGrades, Yelp, Vitals, and other channels
Patient testimonials (text, video, etc.)
Question and answer video segments
Print media, radio placements, and interviews
Social media engagement, following, and visibility
Community involvement, events, and tours
Here's a simple but effective example of social proof at work on social media: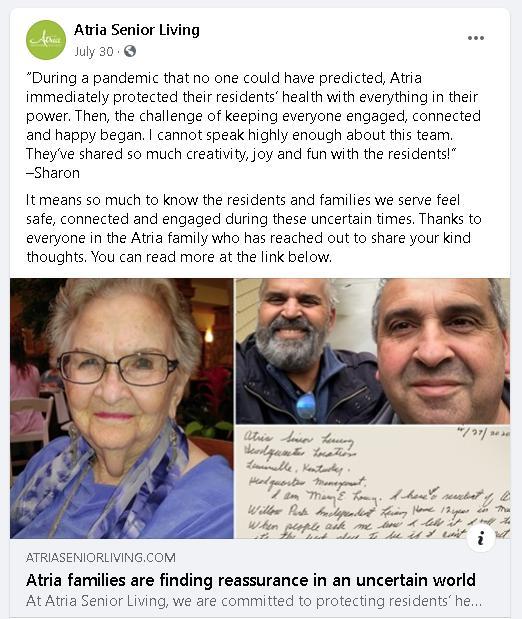 People are sifting through online reviews, too. They're digging through sites like Google, Yelp, Facebook Business , and elsewhere to see what kind of ratings, reviews, and overall sentiment they'll find. In the realm of senior care, members of the DMU are highly interested in your organization's COVID-19 response—what you did, what you are doing now, and what safeguards you're planning to implement in the future.
In How to Build a Positive Digital Reputation , we explore specific strategies in depth. Just remember that DMUs are protective—they want to see that their seniors will be cared for. A single poor or poorly managed review is enough to lose a lead, especially in the post-covid era. Ensure that you have enough positive reviews to outweigh any negative.
4. Personalization Makes for Better Experiences
For senior care marketers, it's all about advancing the relationship. You do that with a full-funnel strategy, first and foremost. And you enhance your funnel with personalization. Just as people expect the same quality of experience (UX, convenience, etc.) they get elsewhere, they also expect the same level of hyper personalization.
Think Netflix recommendations, but for people making important decisions about senior care.
Of course, personalizing senior care journeys is a lot trickier than personalizing streaming video. The senior care DMU can include the patient, spouse, children. They all have different questions and needs. And their data is subject to more stringent privacy laws.
That said, the last thing any member of this unit wants is to feel like they're on a generic conveyor belt. A Place for Mom is a good example of a "choose your own adventure" approach to marketing that enriches people's lives with personalized content: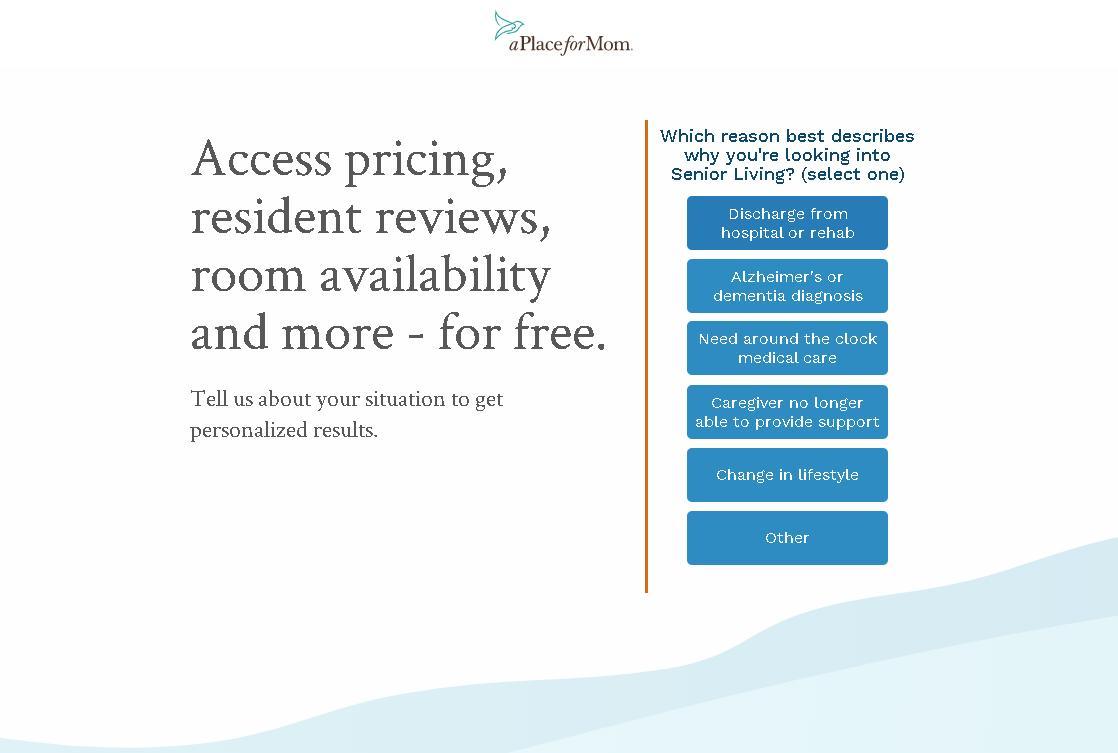 Here are a few other examples of personalized senior care journeys we've come across:
Location-based landing pages for senior living ad campaigns (automatically loaded based on your IP address)
Educational campaigns just for sons and daughters of early dementia cases
Display retargeting that reminds people to follow up after a facility tour
Guided digital onboarding that walks new prospects through each step
Of course, personalization in senior care is subject to the same patient privacy laws as any other healthcare. For more on how to ethically and effectively walk that line, see How to Use Marketing Personalization While Protecting Patient Privacy .
5. Return on Investment and Conversion Rate Optimization (CRO) Go Hand in Hand
As senior care organizations become more digitally savvy and invest more into digital marketing, most arrive at CRO as the logical next step. CRO is a terrific set of strategies to get more from the marketing investment and efforts. With CRO, you're mostly focused on improvements to the post-click experience.
That means tinkering with and testing various aspects of the marketing funnel to improve conversion rates. CRO methodologies can be applied across your marketing activities, including campaign landing pages, messaging, and appointment booking. For example, your data might reveal a point in the journey where a large percentage of mobile users abandon—time for better mobile UX.Or you might discover opportunities to A/B test headlines for ad copy to beat the baseline and improve clicks/conversions.
CRO is a lot like the use of computer vision and machine learning in athletic performance development. You're analyzing thousands of data points to see if there's any mechanical improvement that might translate to even a sliver of performance improvement on game day. In competitive fields, even a tiny margin of improvement can mean a win or a loss.
The same goes for senior care marketing funnels.
6. Search Engine Optimization (SEO) Remains Critical
Did you know that people conduct 6,000 online searches related to senior care every hour in the United States? Considering that volume of activity, it's clear that senior care providers with mature SEO strategies have a distinct advantage.
While strategies such as paid media help capture demand for providers who don't rank well in search, the time really is now to begin investing in longer-term SEO strategies. Paid media is really just renting space on the search engine results page; when you can be found organically throughout the buying journey, you own the house.
Yet,
the way people search for senior care is evolving
. As a result of COVID-19, for example, senior care consumers are more prone to take care into their own hands. There's an increasing willingness to self-diagnose or go directly to Google to find providers and solutions. Conversational search and the ability of search engines to connect people with relevant content based on context are better than ever.
Local search cannot be overlooked, either. Near-me mobile searches, such as "nursing home near me," have grown by more than 250% . People choose most senior care services based on proximity. So focus on "near me" optimizations and create highly local content. For example:
Optimize citations with consistent name, address, phone number (NAP)
Optimize your Google My Business (GMB) Listing and routinely update it
Build a review encouragement program for GMB
Create well-optimized location pages (it's much easier to rank in the local SERPs if you have a location webpage)
Create on-site location content (blog articles, news, events, FAQs)
Get backlinks from authoritative local sources
Remember, you're trying to help consumers find the best senior care provider nearest to them. Most of the time, that's exactly what they want.
7. The Data Insights Are There Thanks to New Technology Adoption
We've seen a rapid maturation of technology adoption in senior care marketing. While this is partially fueled by outside influences and rising private equity investments, the fact remains that most senior care organizations are open to trying new technologies, especially in two particular areas:
Call tracking : Many senior care consumers want to, at some point, call and talk to someone. That makes call tracking an invaluable tool in collecting data that will improve digital marketing effectiveness. Many of our large senior care clients have adopted dynamic call tracking solutions to help identify the source of a call back to the keyword, campaign, landing page, direct mail piece, email, etc.
The traditional way for an organization to "track" is to have a unique single number from your phone provide for each channel, but this is cumbersome to manage, doesn't provide insights beyond just "website, direct mail, email," and certainly doesn't provide the immediate feedback inside of digital marketing campaigns to make real-time adjustments.
Marketing attribution : There's a growing hunger among senior care groups for a holistic view of how digital channels are performing. Coincidentally, this includes new technologies that assist with marketing attribution. Many senior care providers are moving away from a standard "last click" model where you only give credit to the channel that triggered the phone call.
They're instead considering every channel that touches a patient in their journey from awareness to consideration to action—each is given credit for their roles in a conversion. In How to Measure Healthcare Marketing Performance , we cover the various attribution models and supporting technology. Here's a refresher:
U-Shaped is a multi-touch attribution model that gives the most weight to the first and last marketing touchpoints, with the middle touches receiving less weight.
W-Shaped gives 30% credit to the first, middle, and last touchpoints, then 10% to the remaining touches in between.
First Touch gives 100% credit to the first action or click and none to the subsequent marketing touchpoints.
Last Touch gives 100% credit to the last interaction before a conversion.
Time-Decay assigns credit to every "touch" that led to a conversion, with credit weighted in favor of more recent touches.
New attribution tools like Ruler Analytics , Funnel , and Branch can be quite handy no matter which model you decide to use.
8. New Data Restrictions Will Make it More Difficult to Reach Consumers
Data privacy will remain a hot topic in 2022, and for a good reason. The volume of data being generated in the senior care space, alongside the ever-changing data privacy landscape, directly impacts the work of digital marketers.
One recent change was the famed iOS 14 update , which requires that any app that wants to track activity to ask for permission first. This change has affected advertising on Facebook and Google, in particular, where the pool of usable user data has shrunk considerably. And you can expect to lose more data access in the future as more companies go the way of Apple. Google Chrome, for example, plans to phase out browser cookies by 2023 .
Isn't the effort to give users more control of their own data a good thing, though? In an industry like senior care built on trust and empathy, why not embrace data privacy? Why not be known as a provider who prioritizes privacy and security?
As we pointed out in Healthcare Marketing in the Era of Cookieless Browsing , there are plenty of ways to advertise to senior care consumers effectively without the hyper-targeting that once characterized most strategies.
Finally, Bring Value and Be Dynamic
Before buttoning this up, let's recap our 2022 senior care marketing trends:
Your website and UX must be a top priority
A full-funnel marketing strategy helps you connect
Social proof and testimonials are a must
Personalization works
Conversion rate optimization is the next level
Comprehensive SEO is your foundation
New martech adoption grows
Evolving data restrictions
It's a lot to account for, and it can't all happen at once. We predict that the differentiated senior care providers won't necessarily get all of these trends precisely right. Still, at a high level, they will find ways to bring value to the patient's journey. The good ones will obsess over understanding the needs of their ideal customer profiles. They'll map out various decision-making cycles and find ways to dynamically improve the experience—even if it's just one click, form-fill, web page.
We agree wholeheartedly that a consumer-driven focus is a must for senior care marketers. Come 2022, it's time to make that focus a reality.
vc_row]