Some of our friends in the dental marketing space are calling 2022 a period of post-pandemic recovery. Others are predicting the continued proliferation of dental marketing technologies. In our view, both projections are true to some extent.
Yet, it was a singular passage from the Benesch DSO Newsletter – Q1 2021 that really caught our eye:
Dentistry may have long existed as a cottage industry, but we're seeing a rapid increase in the absorption of small private practices into PE and DSOs. The wave of consolidation will help carry the new technologies forward […] AI will soon link dentistry, systemic medicine and electronic record keeping into a continuum that will bring a new level of consistency, clarity and convenience to patients, not to mention better outcomes."
Put differently, the industry is moving heavily toward the DSO model, and the time is right for DSOs and member practices to step on the gas. What follows is our in-depth look at the primary challenges facing the dental marketing crowd come 2022, as well as the trends that your strategy needs to account for to sustain growth.
First, the Top Challenges Still Facing Dental Marketing
In conversation with the DSOs that we work with daily, there's a common theme: dental marketers are feeling tremendous urgency to adopt the latest technology and marketing innovations to remain competitive. Typically, that urgency is based on three high-level needs:
Deliver the Right Media Mix
Of the various marketing and advertising channels, DSOs still tend to spend the most on paid search advertising. However, we've found that, as budgets increase, marketers have more options to diversify their media mixes—especially with the advent of smart display ads and other digital channels and products that can drive efficiency.
There are new constraints, too. For one thing, Apple made major changes to user privacy and data back when they released iOS 14. This has created challenges for dental marketers trying to target specific audiences. In addition, the general lack of data transparency characterizing this vertical means most dental marketers are still focusing on search as their primary patient acquisition channel.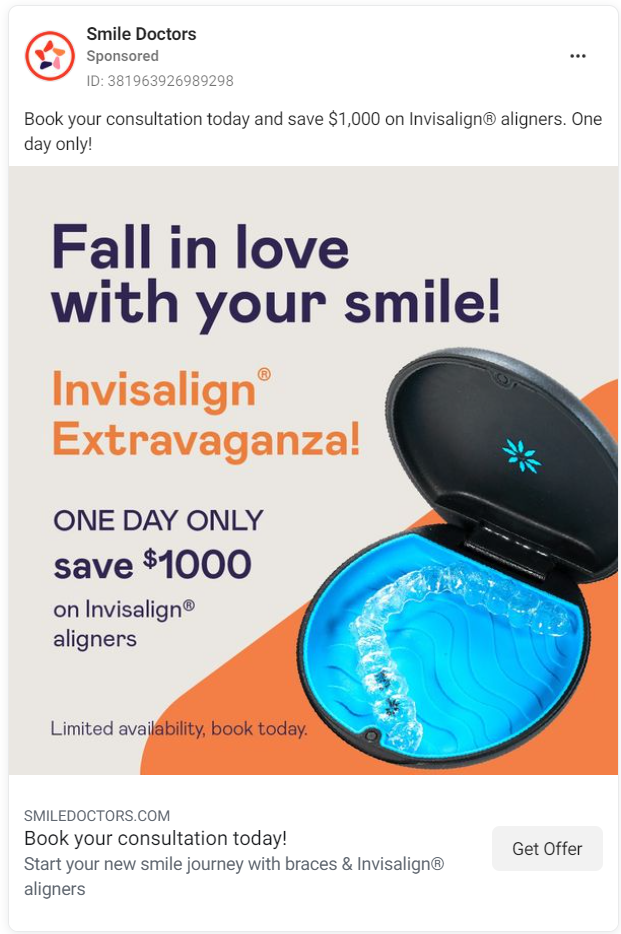 Yet, we are seeing more people invest in digital advertising. Those with larger media budgets are still able to diversify into new channels beyond search, most notably:
Google Display Network, including Smart Display and Discovery
Facebook and Instagram
Connected TV/over-the-top (OTT)
Local digital publications and listings
We're helping many DSOs test options like Google's Smart Display, in particular, which can help get a lot more juice for the advertising squeeze. For more detailed tips and tactics, see the following:
Balance Efficiency with Operational Needs
As your DSO continues growing, it can be challenging to scale your media strategy while factoring in local-level needs. Broadly speaking, organizations want efficiency in marketing—they want to reduce patient acquisition costs (PAC). To achieve lower PAC, it's often necessary to make broad account modifications, which is difficult to balance with budgetary and volume goals on the local level. This makes executing a larger-scale, group-wide marketing strategy of any kind quite tricky.
This is part of the reason why so many DSOs are moving toward more centralized marketing models . As a result, we've seen DSOs centralize marketing to great benefit, including more cohesive branding and messaging, streamlined marketing tech and related costs, and far more cost-effective digital advertising campaigns.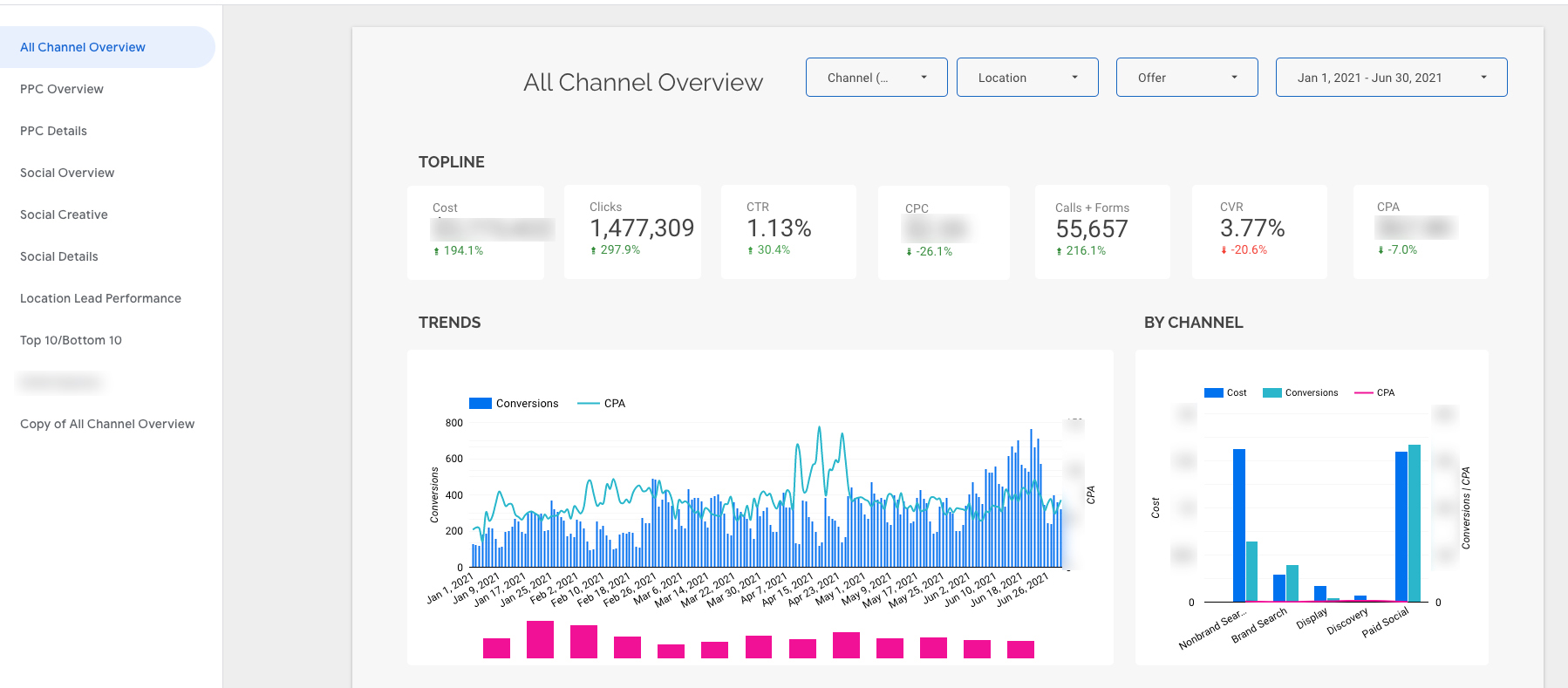 Overcome Limited or Non-Existent In-House Marketing Teams
Across the dentistry vertical, many internal marketing teams tend to be resource-strapped, especially during the so-called "post-pandemic" period. Unfortunately, a lot of DSOs had no choice but to reduce both marketing budget and headcount drastically.
For better or worse, many DSOs and even local dental marketing teams are heavily reliant on agencies and contractors to act as an extension of their in-house teams. This means that these digital marketing partners have to play a very strategic and consultative role in addition to driving forward tactical initiatives.
The reduced headcount sometimes means that marketing is not as agile as it could be. And getting new initiatives or campaigns to market can be a struggle for overtaxed teams. Yet, the right agency can get your locations to value faster by way of cutting-edge strategies and lightning-fast ramp-up times.
1. Consolidation Will Increase and Spur Marketing Investments
Consolidation was a central theme among DSOs this year and last. External market conditions and unforeseen challenges have forced DSOs to tighten their belts a bit. Often, it's a merger and consolidation that makes the most fiscal sense, which is leading many DSO thought leaders to reflect on the state of things . Here's Brian Colao, Member & Director, Dental Service Organizations Industry Group at Dykema:
"The dental industry has truly proven itself to be virtually recession-proof and now pandemic-proof. The current DSO market penetration of approximately 30-32 percent will likely continue its unabated march to 75-80 percent over the next 10 years."
It's real, folks. The US dental market is expected to grow by $15B+ by 2027 . And this growth is driving tremendous investment, though not necessarily in-house. Many DSOs are instead opting to invest in trusted agency partners that can help with things like:
2. The Consumerization of Healthcare is Here
In our recent blog post, Healthcare Marketing in the Age of Consumerism , we shared an interesting data point: UBS estimates "the addressable market" for the consumerization of healthcare will increase by 5.5 percent through 2025. One reason is that high-deductible plans are on the rise, as are medical costs.
People are fed up with having high medical costs dictated to them, and they're doing something about it. Today, consumers are spending more of their own money to get the care they need. And if you're spending your own money, you want a better experience. That means care needs to be accessible and transparent. It means you need to build a trusted brand. And it means that the DSOs that can build the best online patient experiences win.
When it comes to the consumerization of dental care , here are a few things to keep in mind:
Patients are less willing to tolerate inefficiencies, bad experiences
People are going online to find care
Many people are self-diagnosing before they decide to reach out
Digital marketing can be a way to add value and improve patient experience
Here's a little nugget from Group Dentistry Now that summarizes the key drivers behind the consumerization of dentistry, in particular:
" It's really the young and hungry dentists growing in the industry who are saying, "I got to figure out how to grow my practice." And so those are the folks that are really kind of pioneering the consumerization within dentistry and also obviously great DSOs like Smile Brands, that are really helping bring that to dozens, hundreds of offices sometimes at the same time ."
3. Teledentistry Will Remain Part of the Mix
In terms of the pandemic, things seem to have settled down a bit. A lot more people are going back into the office for dental care or scheduling those surgeries they put off. Yet, the teledentistry options that cropped up during the height of the pandemic don't seem to be going anywhere.

This sentiment is reflected in growing calls for a hybrid approach or the option to choose between in-person and telehealth visits. According to DocASAP's annual State of Patient Access and Engagement survey :
44 percent of people would prefer to receive care "both in-person and via telehealth" in the post-COVID era
40 percent of people would switch providers based on availability for both telehealth and in-person visits
It makes sense, right? We've seen, for example, dental practices offering teledentistry appointments to patients with mobility issues, COVID-19 concerns, or homes in remote locations. Others, especially dental surgeons, often conduct their initial consultations by video. Vice President of Growth Marketing Summit Partners, Cody Lee , had a couple of predictions around telehealth:
"Telehealth is a major undertaking for an organization to offer. And, I'm glad to hear organizations talking about the patient experience in reference to telehealth because it's not as simple as throwing up a Zoom and having a discussion. Developing a platform can take a while, and it's an investment. I think we have to start with the patient in terms of not just specialties but also what demographic are you going after."
Beyond delivering a good experience, how can telehealth help your dental practice reach a larger market by eliminating barriers that a target demographic might have struggled with in the past? Is there a patient population with accessibility, distance, or safety limitations that you can now serve through telehealth? Think about:
The elderly
Physically disabled or convalescent patients
Patients living in remote areas
Patients who cannot, will not, or prefer not to go out into public for their care
Therapy and psychiatry patients
4. New Marketing Tech Adoption Will Accelerate
Another year, another crop of new technologies to be aware of. Yet, not all of the hype is real, at least not for dental marketers with their sights set on 2022. Here are the three technologies we think should be on every DSOs radar for 2022:
Customer Relationship Management (CRM) Systems
DSOs are investing in CRMs to nurture patients better and reactivate them. Why? Because a CRM provides centralized visibility into customer records, status, marketing attribution, and other insights at both the local and organizational levels.
A CRM solution can help your organization manage your customer relationships more closely. A CRM is a central place to store all contact information, patient preferences, history, and other essential data in one central location. Examples of CRM solutions include:
Salesforce
Marketo
Microsoft Dynamics
HubSpot
Oracle
Zoho
For multi-location businesses, a CRM can be a very powerful tool to help drive growth. Many multi-location DSOs leverage CRMs to more effectively segment their marketing campaigns, personalize correspondence, and create a more seamless patient experience across the group. Our own marketing analytics software, Patient Stream , integrates with most CRM solutions to extract AI-powered marketing insights.
Appointment Confirmation Software
The market for appointment confirmation software is expected to grow 13.1 percent in the next five years. DSOs love these solutions because they automate a previously time-intensive process that was prone to human error or neglect. Many appointment confirmation softwares offer patients the option to make their own appointments while sending automated reminders, many practices that use these solutions see a drastic reduction in no-shows.
There are a few key advantages to appointment confirmation software:
It's a secure way for patients to book online without any help (24/7)
They connect with the "schedule an appointment" button on your website
Most send automated email and SMS appointment confirmations and reminders
The management of calendar and staff is almost entirely automated
It's a better experience for patients and providers alike and yet another indication of the consumerization of healthcare. After all, if you offer automated appointment scheduling during my time of urgent need, I'm probably going with you.
PRO TIP : Regardless of how your patients book appointments online, ensure that the experience is optimized for mobile devices.
Chatbots
There's a reason that the U.S. chatbot market for healthcare alone is expected to at least triple by 2025 . That's because chatbots have a tremendous upside: according to estimates published by IBM, up to 80 percent of routine questions could be answered by a chatbot. And guess which population asks a lot of routine questions? Your patients. Here are some of the things you and your patients can do with a chatbot:
24/7 service and support
Reduced no-shows, enhanced appointment booking
Better patient experiences
Screen, assess, and triage symptoms
Questions about treatment and procedures
Lead generation
Yet, chatbots are evolving a bit. ChatCompose, for example, can ask questions about symptoms and refer patients to a particular dentist. The Emergency Dental Virtual Assistant can screen emergency patients before they arrive for immediate dental care. Find a solution that goes beyond simple yes/no interactions to help patients get what they need.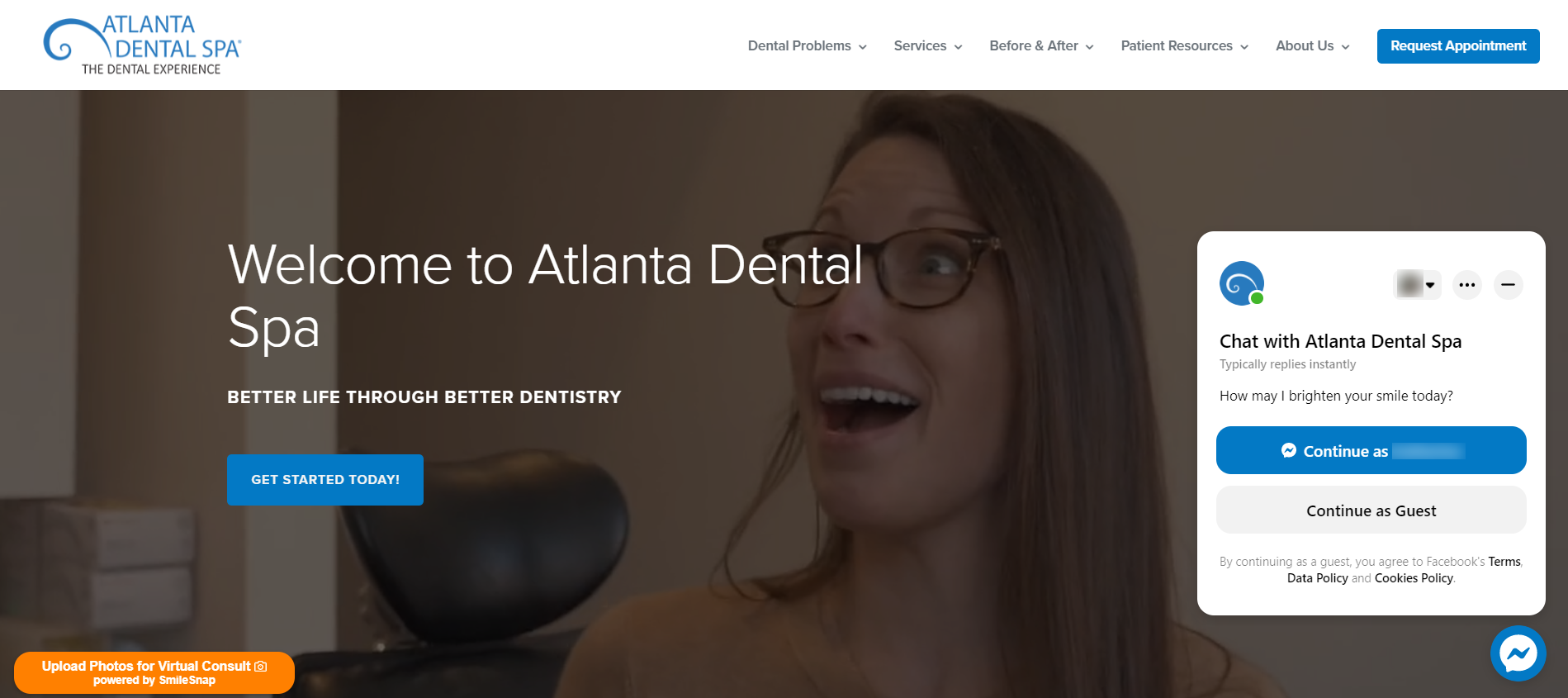 Reduce time spent answering routine patient questions at your dental practice by adding a chatbot feature to your website. 
5. Localized Search Remains the Most Effective Driver of Patient Acquisition
Approximately seven percent of all daily internet searches are related to healthcare. Every day, billions of people turn to Google when they have a healthcare need. When it comes to dentistry, people go online to look for dentists and they look for practices that are nearby. In fact, 84 percent of "near me" searches are carried out on mobile devices .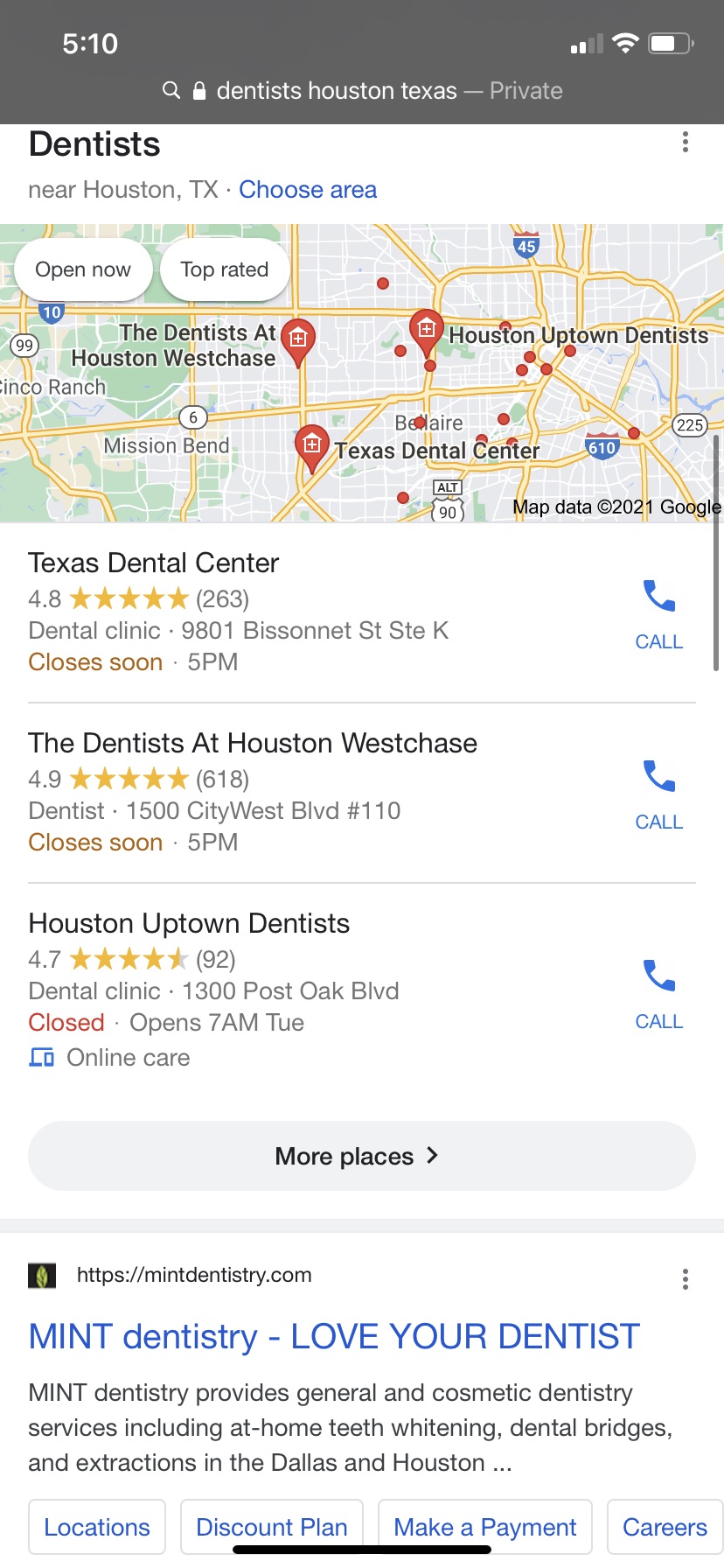 The time is now for high-growth dental groups and DSO-backed practices to implement a comprehensive local SEO strategy . Because connecting with these local audiences means ranking location-specific content. The catch is that optimizing a multi-location dentist's website to rank in these local search experiences is somewhat different than an overarching SEO strategy. If you're a DSO-backed, multi-location dental group—or really any practice with a physical location—here's a five-part local SEO strategy to do just that.
Develop a comprehensive keyword strategy
Build comprehensive location pages
Manage your citations
Solicit patient reviews
Create a great GMB listing
You can read an in-depth look at each of these five local SEO strategies in The Insider's Guide to Local SEO for Dental Groups and DSOs .
On the topic of local demand generation, however, I'll share one more trend to be aware of: localized paid search. Localized Google Ads, especially, tend to be most successful for DSOs, as they capture existing demand—they target people that are already "in the transaction phase" (that is, actively looking to make an appointment with a dentist in their area). System-wide display advertising and social media ads can also drive success but these tend to lose efficiency when deployed at the local level. If you're having trouble ranking for local keywords organically, paid search ads can help you get to the top quicker.
Looking Forward, Focus on Scalability and Flexibility
Hopefully, something as disruptive as COVID-19 doesn't await us in 2022. Even without another global pandemic to account for, dental marketers will have their hands full. It's impossible to predict what new technology, a shift in customer preference, or industry trend will crop up.
And when it comes to making the most of that next dollar of marketing budget, the stakes have never been higher.
As quickly as you'll need to adapt your investments into digital advertising, flexibility and scalability should always be your focal points. This might be the only sure way to future-proof your group against whatever might await us in the coming year.